Game Day
WHOOP & Hallelujah! It's finally another Fightin' Texas Aggie home game this weekend, so I am doing my part to get ready to BTHO Ole Miss by planning the perfect game day outfit from Southern Jewlz. After all, we can't let those "Old Ms.'s" beat us in SEC wardrobe! It has taken me a little bit to embrace dressing up for football games, but all the fabulous options for game day have made it pretty easy to transition.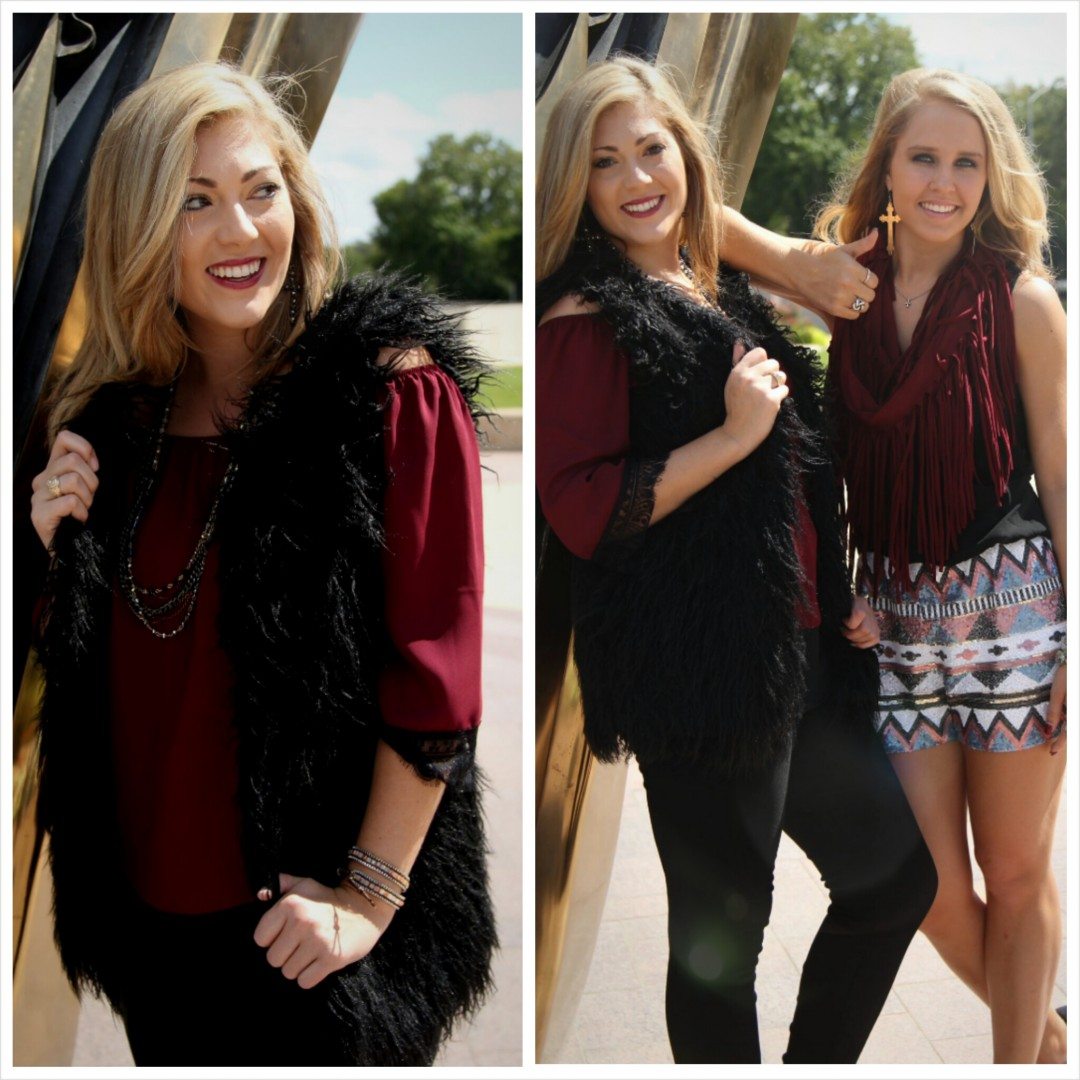 Southern Jewlz has a huge selection of fabulous maroon! My first look this week is with my black YMI skinnies (I could live in these pants). They are so comfortable and a must have for your fall wardrobe. My maroon top was one of those times where off the hanger I thought maybe, but trying it on made all the difference. I have a curvy body type, so the tapered sides make all the difference when wearing "flowy" tops. Lesson learned this week? You NEVER know until you try it on! Randa and the girls at SJ are so great with helping jazz up an outfit. It takes a little work to get a whole look put together, if you need help the SJ staff is there to help! Monday and Tuesday are the best days to get more individual attention and help from the ladies at SJ (not as  busy as weekends) so they have more time to help you! The fur vest really made this outfit so edgy and fun! Not to mention the awesome Pink Pinache earrings and sparkle layered necklace!
The BOOTS: I love these Not Rated black ankle boots! Another pleasant surprise when trying them on was that they are comfy!! Unfortunately, starting to be an important factor for this ol' lady! These ankle boots would be a great item to have for your fall/winter wardrobe!
THE MAROON FRINGE SCARF
The beautiful Chanler has been a member of the Southern Jewlz team for many moons! She is an absolute doll! Pictured above she is sporting one of my favorite pieces of maroon merchandise at SJ. What is so great about this scarf is that it can transform so many tops, rompers and dresses into a gameday outfit! She is also wearing a fun sequins romper that is available in store now!
The Dress: Bling Bling! I loved this dress because it is very flattering for my body type- I can not stress enough how important it is to know and dress for your body type, it makes the world of difference! I love how the bottom of the dress is frilly! (I will always be that little girl that loves to spin around in her dress, aren't we all?) Since our move to the SEC, you have probably noticed that there is a big difference in the way fans dress for the games. This is a great dress so show Ole Miss that we are here to compete… Oh and win in football too. 😉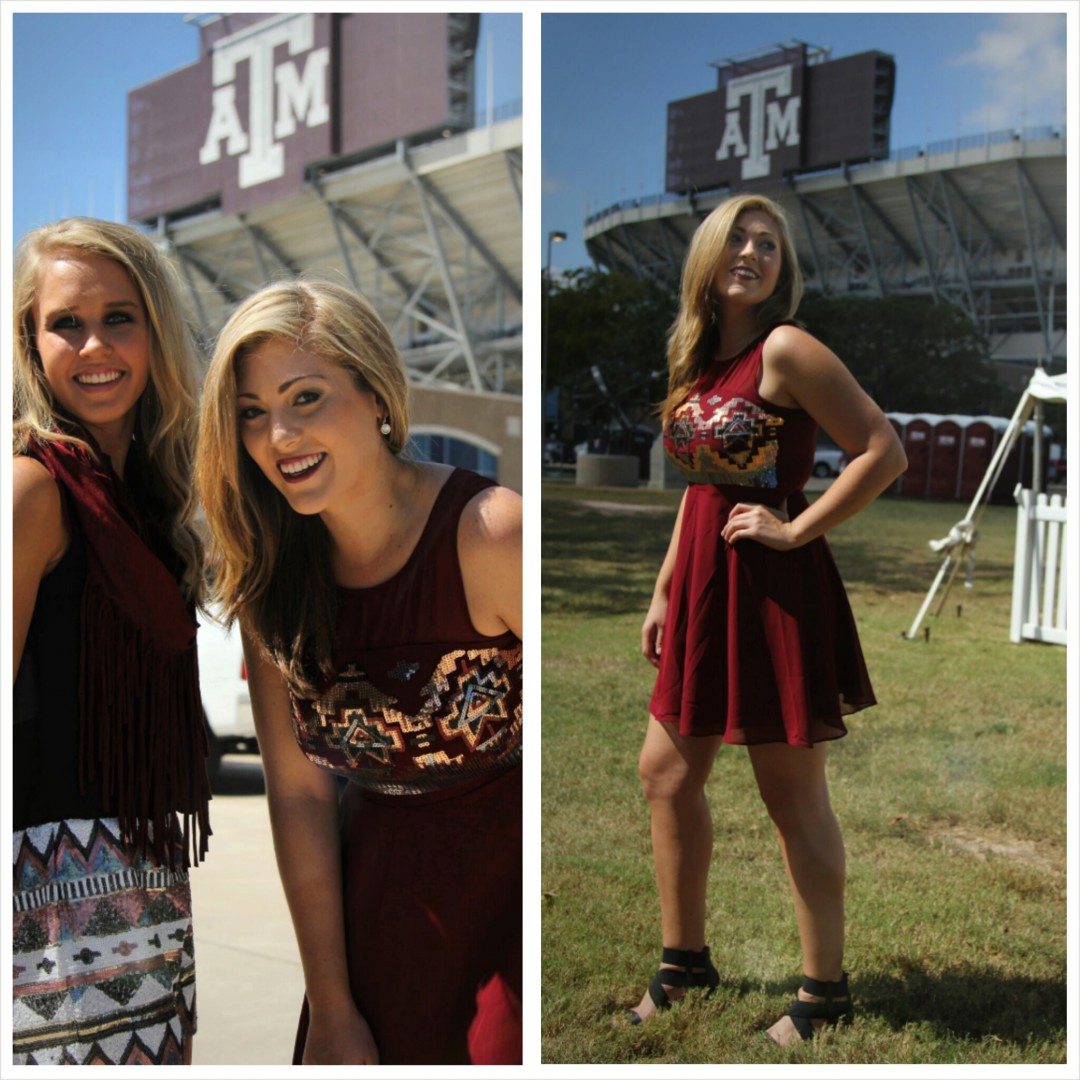 You can find ALL of these looks in the Southern Jewlz Boutique!
Something I love about SJ is that there are great options for the young professional! I think a lot of ladies think," Oh, it's all for the young college girls." WRONG! There are so many great blazers and blouses for the young professional and mom. They really do have something for EVERYONE. Just because I'm "getting older" doesn't mean I have to dress like my grandma…even though I love her very much! :0)
*Join Southern Jewlz this Saturday for a tailgate party in the store before you head to your own tailgate from 10a-4p! Snacks, shopping and fun! Free t-shirts to the first 20 people in the door! 
*Southern Jewlz also sells concert tickets for Hurricane Harry's this Friday it's Kyle Park!
Southern Jewlz is located at 901 Harvey Rd, Suite B College Station, TX 77840
Online Store Location –909 Harvey Rd, Suite C College Station, TX 77840
Store Hours: Monday-Saturday 11:00a-7:00p
Shop Online at southernjewlz.com  or now on Instagram @southernjewlz!
Brought to you by Southern Jewlz