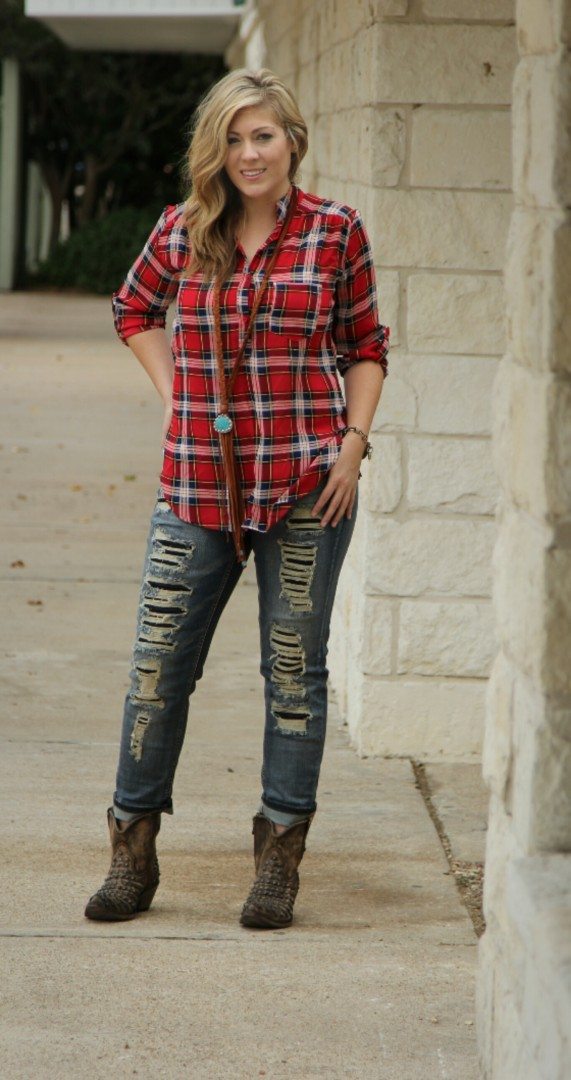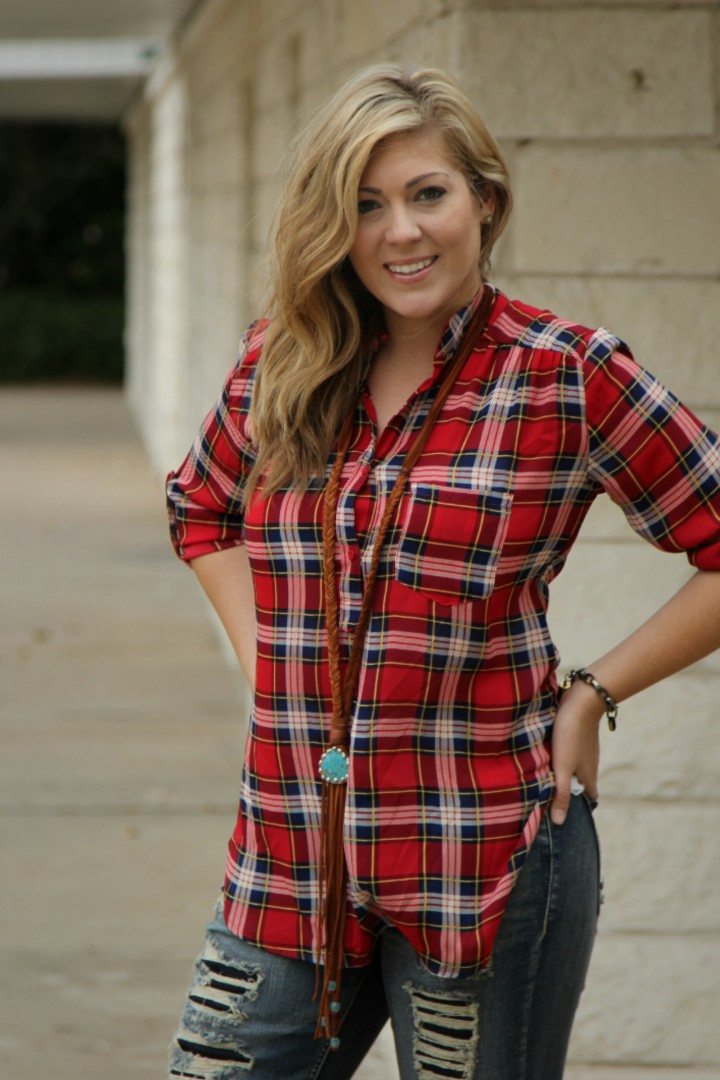 Mad For Plaid
Plaid has arrived and is very popular this fall! The best part is that you can dress plaid up or down! There are lots of great concerts in town this Friday night, so this week's look can help you get inspired and start planning what you're going to wear! This red,sheer plaid top has a great long fit which I love for layering, like I did here with this fabulous and funky fur vest!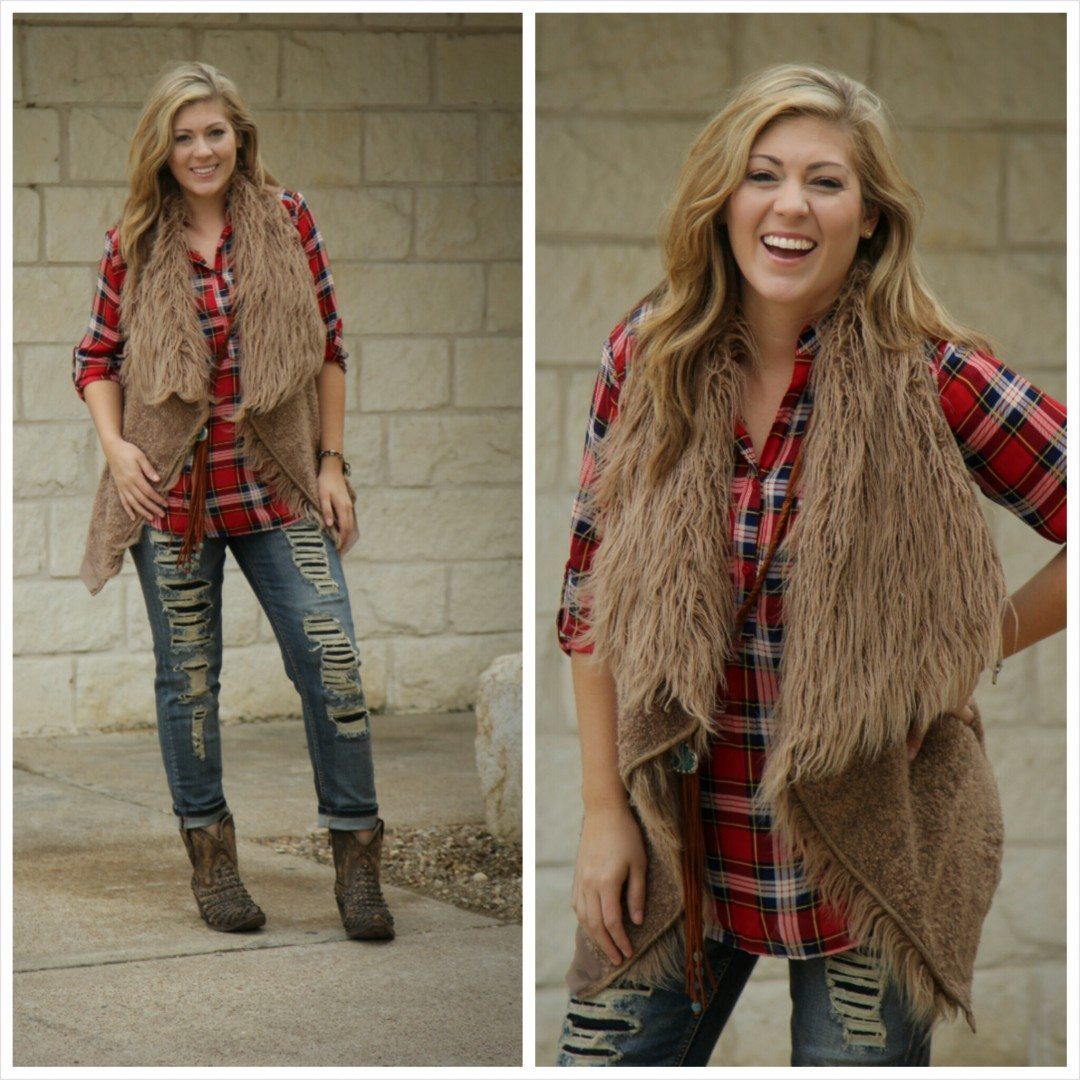 Marble Falls Skinny
I know your grandparents will harass you for buying new jeans with holes all over…but it is well worth it! I love the fit of these jeans. I especially love that they have stretch!(Pretty much a must have for me when it comes to jeans!) The length of them are also great for the awesome ankle boots that are so popular this season!
Boots 
Vintage Canera Liberty Black Boot
Jewelry
West Indies Necklace, She's Whiskey in a Teacup bracelet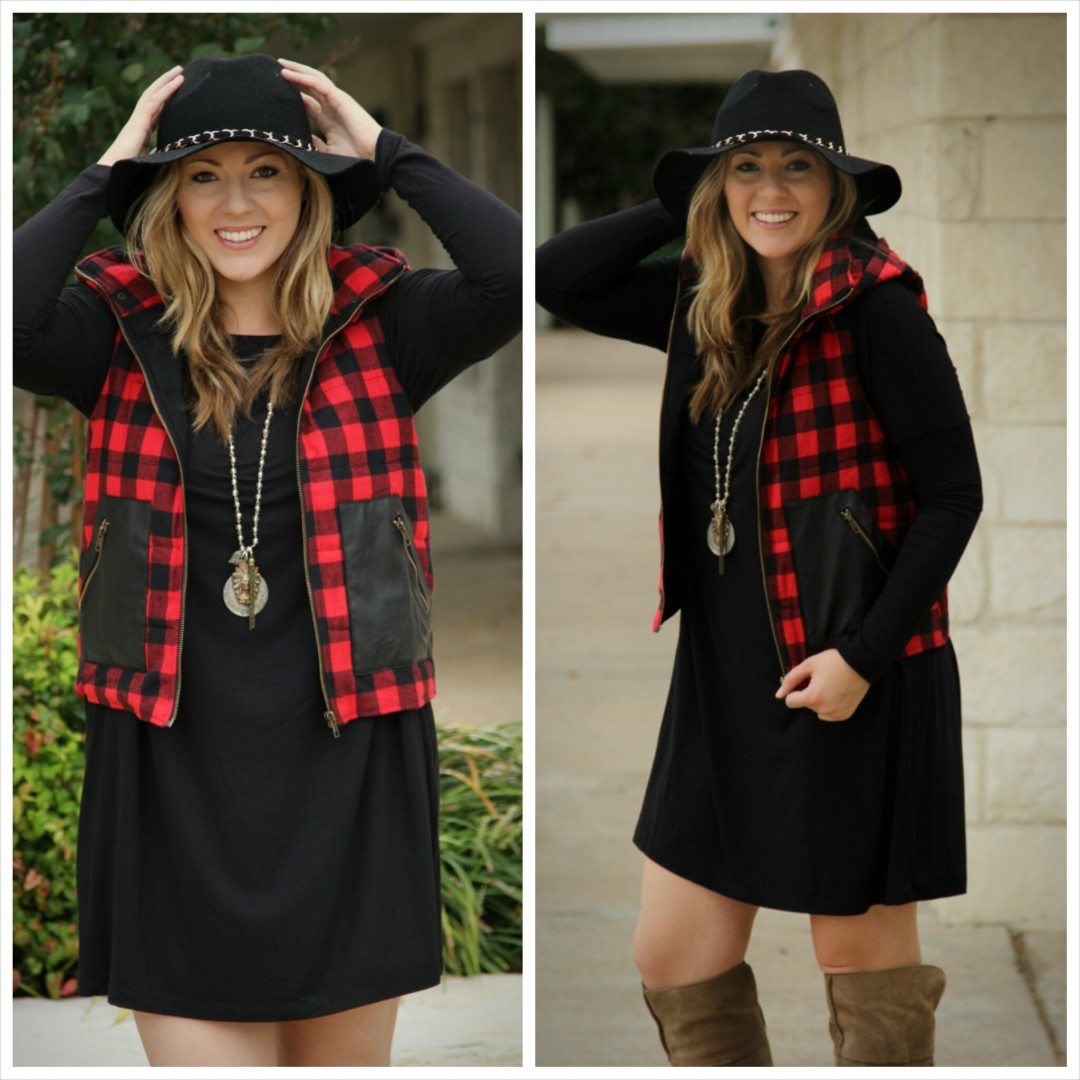 Hunter Vest
This vest also comes in black and white! I love this cozy look with a little bit of edge with the leather pockets. Paired with this simple black stockyards dress!
I have loved hats since I was little bitty! Life is too short not too wear fun hats!
Necklace
H&M3 Necklace
This Thursday, come by SJ from 12:30p-2:30p to get your tickets and sign up for your chance to win a meet and greet with Aaron Watson with a couple of gals from CMA EDU A&M Chapter! They will also be covering the whole thing live on social media!
**Don't forget you can get all concert tickets at Southern Jewlz!**
This Friday:
The Randy Rogers Band with Zack Walther at Hurricane Harry's!
Aaron Watson with The Cody Bryan Band at Boulevard 217!
Save the date for the 2015 If The Crown Fits  Southern Jewlz Fashion Show at Hurricane Harry's Saturday, May 2nd benefiting Phoebe's Home! Interested sponsors please email your contact information to info@southernjewlz.com. Together we can make a big difference in the Brazos Valley!
Southern Jewlz  901 Harvey Rd, Suite B College Station, TX 77840
Online Store Location 909 Harvey Rd, Suite C College Station, TX 77840
Store Hours: Monday-Saturday 11:00a-7:00p
Shop Online at southernjewlz.com  or now on Instagram @southernjewlz!
Brought to you by Southern Jewlz